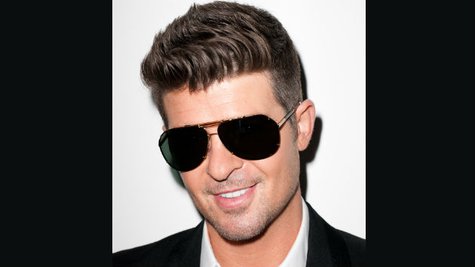 Robin Thicke will end his impressive 2013 by performing on Dick Clark's New Year's Rockin' Eve with Ryan Seacrest , which airs tonight on ABC. And while fans will indeed be treated to the umpteenth rendition of "Blurred Lines" during the performance, Robin says he hopes he'll be able to change things up a bit.
"I always try to sing it a little differently and make it up as I go along," he says. "So hopefully, we'll give the people something exciting tonight."
Although the success of "Blurred Lines" -- the longest-running #1 of 2013 -- was obviously a highlight of the past year for Robin, he says there's one particular moment in a year full of accomplishments that stands out for him.

"You know, the Grammy nominations night was wonderful, because I had my family there and I got to perform on the telecast," he says of the December 6 CBS special which revealed this year's nominees. "I've been making music since I was 11 years old and to finally get those honors, that was a wonderful evening." He's nominated for three Grammys, including Record of the Year for "Blurred Lines."
So, what does Robin plan to do in order to carry all this momentum into 2014?
"Oh, hopefully just to make more good music, and to make people happy, and put on great shows," he says, before jokingly adding, "And, y'know, watch my temper."
When asked about his New Year's resolution, Robin reveals that he's mostly looking looking forward to celebrating with loved ones.

"I always make myself a bunch of resolutions that I never keep, but really I just love to be with my family and my friends and celebrate the year and make the best wishes I can for the New Year," he says.
Robin will be performing during the West Coast party portion of tonight's telecast. Hosted by Fergie , that segment also includes performances by Jennifer Hudson , Jason Derulo , Fall Out Boy , Enrique Iglesias , The Fray , Florida Georgia Line and Capital Cities .
The Dick Clark's New Year's Rockin' Eve with Ryan Seacrest 2014 broadcast kicks off at 8 p.m. ET with a special on the 30 Greatest Women in Music , hosted by Jenny McCarthy and Fergie. Ryan counts down to midnight live from Times Square, where Robin Thicke's MTV VMA partner in twerk, Miley Cyrus , will be entertaining the crowd.
Copyright 2013 ABC News Radio