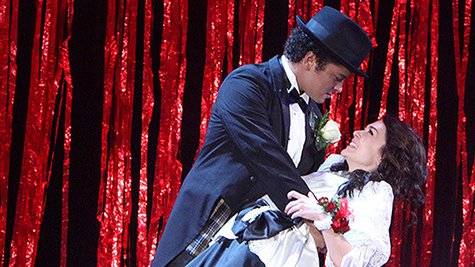 At the end of December a 16-year-old Michigan teenager named Emily Torres posted a video on YouTube asking Ellen DeGeneres to help hook her up with her dream prom date: Bruno Mars . Well, Ellen got together with Bruno and they made Emily's dream come true on Tuesday...sort of.
Emily was in the front row on Ellen's show on Tuesday , and Bruno was the guest. He informed her that he couldn't take her to her prom because his schedule wouldn't allow it, but then he made it up to her by offering her some amazing gifts. Not only is he going to hook her up with a Gucci prom dress --"to make you look just as beautiful and amazing as you are," said Bruno -- but he's also inviting her and three friends to be his personal guests at his concert when he comes to her area.
And then, as if that wasn't enough, Bruno added, "Get ready for this. This is about to blow your mind. Emily, since I can't come to the prom with you, we brought the prom here, and I would love to have a dance with you!" He took the awestruck teen by the hand and led her on stage, where Ellen's team quickly put a snap-on dress on her, and a snap-on tux on him. Then, the pair stood together and swayed as that classic prom theme "Always and Forever" by Heatwave played in the background, and the audience went wild.
By the way, Bruno will be coming to Emily's area soon. He also announced his upcoming Moonshine Jungle world tour during his Ellen appearance. Though no exact dates have been revealed, the tour will kick off in North America this summer and then head to Europe in the fall.
British singer Ellie Goulding will be Bruno's opening act for the jaunt, which will visit cities including Dallas; Chicago; Boston; Houston; Columbus; Denver; Indianapolis; Kansas City; Austin; Atlanta; Las Vegas; Los Angeles; Miami; New York; Nashville; Montreal; Seattle; Toronto; Vancouver; Washington, D.C; San Diego; Tampa and many more.
Copyright 2013 ABC News Radio
video platform video management video solutions video player