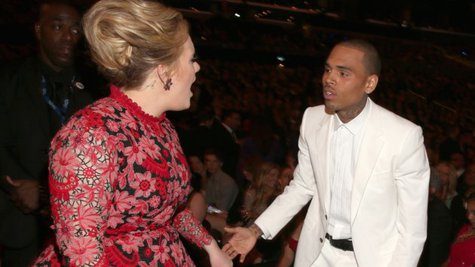 These days Adele really only tweets when she's got something important to say -- and this is one of those times. She took to Twitter to shut down rumors claiming that a photo of her and Chris Brown in the audience at the Grammys showed her angrily dressing him down.
In the picture , Adele is turned towards Chris and her mouth is open, and Chris looks slightly taken aback. It was widely reported that the British star was "yelling" at Chris, supposedly for the fact that he did not stand up when Frank Ocean , the singer with whom Chris had gotten into a scuffle with recently, won a Grammy.
Adele is a huge fan of Ocean's and last year, she broke a weeks-long Twitter silence just to rave about how much she adores his album Channel Orange .
But Adele wrote on Twitter , "Chris Brown and I were complimenting each other in that photo actually."
In fact, other photos taken that same night show Adele and Chris posing together and smiling, so it's unlikely that they had some sort of confrontation.
Copyright 2013 ABC News Radio