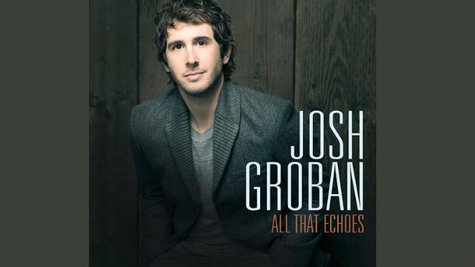 More than ten years into his career, Josh Groban has finally scored his first #1 debut on the Billboard album chart. His new album All That Echoes debuts at the top of the chart with first-week sales of 145,000 copies, according to Nielsen Soundscan.
Josh promoted the new album with a non-stop round of media appearances, as well as a special live event which aired in movie theaters nationwide the night before the album release. On Thursday, he'll appear on both The Ellen DeGeneres Show and Jimmy Kimmel Live!
All That Echoes is Josh's third #1 album overall: 2003's Closer and 2007's Noel also topped the charts, but they both climbed to that position, rather than actually debuting there.
Meanwhile, the Grammys have already started to impact the charts, with sales increases for albums and songs by artists featured on the telecast, like Bruno Mars , Maroon 5 , The Lumineers , Justin Timberlake and Mumford & Sons . Next week's chart should more accurately reflect what's commonly called the "Grammy Bounce."
Copyright 2013 ABC News Radio