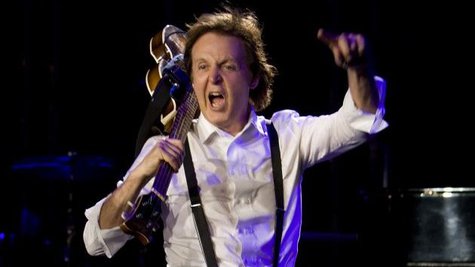 Paul McCartney didn't attend the Grammy Awards Sunday night, so he wasn't in the audience when his album Kisses on the Bottom was named Best Traditional Pop Album. Paul says the win surprised him, as did the fact that it was the 17th Grammy Award of his career.
Speaking to the U.K.'s BBC 6 Music , Sir Paul said, "It came as a big shock to me to know there were 17 to tell you the truth. I don't keep count...people know my figures better than I do." But despite the vast number of awards lining his mantlepiece, the rock legend says it's always nice to win music's highest honor.
"I don't think a lot of the best musicians in the world got Grammys," he pointed out. "It only goes to select few, and so to be one of those for the 17th time is phenomenal."
Paul says he found out about the win via a text message from his manager, because even though he was watching the telecast, his category wasn't announced on TV. Calling the moment he heard he'd won "particularly exciting," Paul told BBC 6 Music, "It was like 'Oh, yeah!!' You can imagine the room went wild." He says he's now convinced that the way to win is to not show up.
"The minute you go, and you're sitting in the audience, it'll be, 'And the winner is.... John Mayer !'" laughed Macca. "And then you do that face, and you smile and clap, and go, 'How good-humored am I ?'"
In a departure from the traditional standards featured on Kisses on the Bottom , Paul says he's currently working on an album of "modern songs," and his collaborators include Paul Epworth --who co-wrote and produced Adele 's "Rolling in the Deep" and "Skyfall" -- and Mark Ronson, who's worked with Amy Winehouse , Duran Duran and Bruno Mars , among others.
Copyright 2013 ABC News Radio