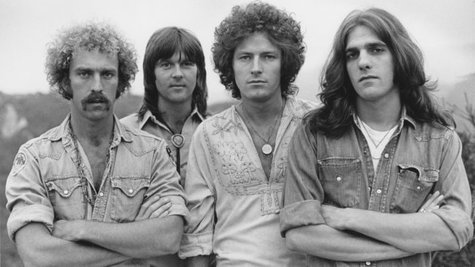 On Friday and Saturday night, Showtime will premiere A History of the Eagles , the story of the legendary band told in two nights, over a total of three hours. And while plenty of great music is on display in the film, the hairstyles and outfits that you'll see the band members sporting back in the '70s are the opposite.
Asked by the New York Times if there are any fashion or hairstyle choices he's made in the last 40 years that he's especially proud of, Eagles singer Glenn Frey replies, "Proud is not the word I would use. Appalled, maybe. Troubled. Regretful."
But there is a plus side. Glenn adds, "I'm just thankful it was just hair and clothes. I'm not stuck with any tattoos or piercings I hate." As for Eagles drummer and singer Don Henley , who used to rock a sort of Afro hairstyle back in the '70s, he tells the Times , "I wish I had that hair now. I wish I had that much hair."
Besides losing one's hair, another consequence of being an aging rock star is explaining your formerly wild behavior to your kids, which Don Henley tells the Times is something he recently did with his son. "I was never a big pot smoker. But I told him everybody was doing it back then," says Don. "And he said, 'Well, of course you did it, Dad. You were in a rock'n'roll band in the 70s.'"
Copyright 2013 ABC News Radio