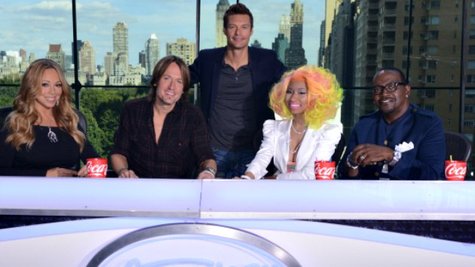 American Idol revealed their top 40 contestants -- 20 guys and 20 girls -- on Thursday night. It was also the final night of Hollywood week, and judges Randy Jackson , Keith Urban, Mariah Carey and Nicki Minaj had to get through the girls' solo round first. Here's what happened:
Angela Miller got the night off to a great start performing her original song "You Set Me Free" while playing the piano. The judges gave her a standing ovation, and Keith was floored by how good the song was and how well Angela sang it. Nicki said that performance put Angela among the top girls in the competition.
Candice Glover and Janelle Arthur both made it through after the solo round. Candice went first with Alicia Keys ' "Girl on Fire," and Keith said she made it sound like her own record. Janelle went with Carrie Underwood 's version of the Randy Travis classic "I Told You So," and Nicki complimented her on keeping her performance subtle.
Zoanette Johnson got behind the drum kit for her performance of a song she made up the day before. The tune turned out to be an out-there ode to the Idol judges, but Zoanette lost her way halfway through. It was a big mess, but moments of brilliance shown through anyway. Nicki said she bowed down at Zoanette's feet after that performance. She made the cut this round.
Shubha Vedula took on Mariah Carey and Whitney Houston 's "When You Believe," and Keith said she was very brave to do it. Mariah said it was a nice moment for her to hear Shubha perform her song so well.
Juliana Chahayed went with Fleetwood Mac 's "Landslide" for the solo round, and Nicki was a big fan. Kez Ban performed an original song, and it was really out there. Nicki and Mariah didn't like it, and the journey ended for Kez Ban.
Ashley Feliciano was under the weather for her solo round performance, and ended up getting cut. Melinda Ademi made it through singing Jessie J 's "Price Tag," and she even had Keith singing along.
Kree Harrison chose Grace Potter 's song "Stars" and sent it out to her parents, who are both deceased. Keith got goose bumps from Kree's performance, and Mariah said there was something that felt genuine about her. Nicki said Kree became a star with this performance. She's on to the next round.
When it came time to choose the final 20, the judges had a few hopefuls sing again. Stephanie Schimel was up first, singing former Idol champ Phillip Phillips ' hit "Home," and then Rachel Hale went with former Idol contestant Haley Reinhart 's song "Undone." Stephanie got the boot, and Rachel went on to be included among the top 20 girls.
The final 28 guys took the stage next with Adam Sanders and Josh Holiday in a sing-off for survival. Adam bit the dust and got cut after singing Celine Dion 's "Taking Chances," while Josh triumphed singing "Georgia on My Mind" despite splitting his pants. Seven other guys were cut to get down to the top 20 guys.
Here is the list of the top 40 American Idol contestants going on to the next round:
Top 20 Girls
Amber Latonio
Amber Holcomb
Angela Miller
Aubrey Cleland
Brandy Hotard
Breanna Steer
Candice Glover
Cristabel Clack
Isabel Pasqualone
Janelle Arthur
Jenny Beth Willis
Jett Hermano
Juliana Chahayed
Kamaria Ousley
Kree Harrison
Melinda Ademi
Rachel Hale
Shubha Vedula
Tenna Torres
Zoannete Johnson
Top 20 Guys
Bryant Tadeo
Burnell Taylor
Charlie Askew
Chris Watson
Cortez Shaw
Curtis Finch, Jr.
David Willis
Devin Velez
Elijah Liu
Gurpreet Singh Sarin
Jimmy Smith
Johnny Keyser
Josh Holiday
Joshua Jada Davila
Kevin Harris
Lazaro Arbos
Mathenee Treco
Nick Boddington
Paul Jolley
Vince Powell
The Top 20 Girls will perform in a sudden death round when American Idol returns next Wednesday at 8 p.m. Eastern time on Fox.
Copyright 2013 ABC News Radio