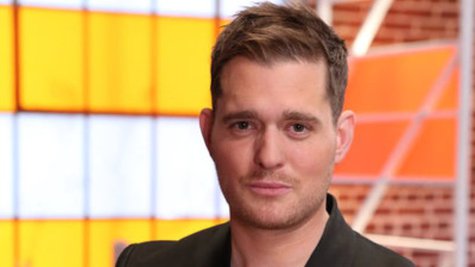 Michael Buble 's new album should be called Big Tease , judging from the way he's been tantalizing his fans with snippets of his new music.
Earlier this week, Michael released a brief snippet of a new song on his YouTube channel, which showed him getting his hair done while he lip-synched. "New Music is coming," promised the video. Now, Michael's delivered yet another excruciatingly brief snippet of his new music.
This time, he's shown sitting at a table next to some random dude, eating a piece of watermelon off a paper plate with a fork. As he pushes his plate away, he sings, "'Cause you may not believe/that baby, I'm relieved." It's not even clear that this is a completely new song -- it could be a different part of the previous song, since the tempo seems very similar. Once again, "New Music is coming" is promised at the end of the video.
Michael definitely has a lot going on in 2013. Not only is he going to become a first-time father, but he has a long residency scheduled for London's O2 arena this June and July. His new album will be out before then, and he'll be performing his new single on the Juno Awards in his native Canada on April 21. He's also hosting the telecast.
Copyright 2013 ABC News Radio