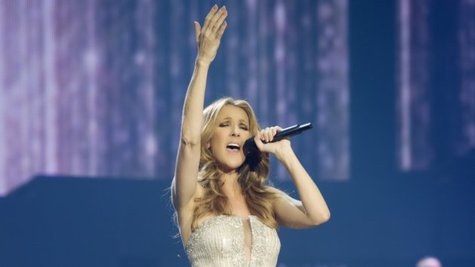 If you can't get tickets to see Celine Dion perform at the Colosseum at Caesars Palace in Las Vegas this year, relax: a new report suggests that she'll be there for years and years to come.
A source tells the Las Vegas Sun that in March of 2014, when Celine finishes the third year of her three year contract, she plans to extend it for two additional years, and possibly two more years after that. That means she'll be performing at the Colosseum through 2018, if all goes well.
"She's definitely planning to go for years four and five," the source tells the paper. "If all continues to go well, there will be years six and seven -- and, who knows? Maybe even beyond that. She's very happy and feels right at home on The Strip."
Celine was supposed to return to the Colosseum for a new round of dates on Tuesday, but unfortunately, she's been forced cancel all her shows this week because she's developed sinusitis following a bout with the flu last week. She's being treated with antibiotics and anti-inflammatory medicine, and her doctors have ordered her to rest for seven days. Fans who purchased tickets with credit cards will receive automatic refunds.
Celine's shows scheduled for February 26 through March 16 will go on as scheduled. March 16 will mark the end of the second year of her contract. After a break, she'll resume performing on June 4.
Copyright 2013 ABC News Radio