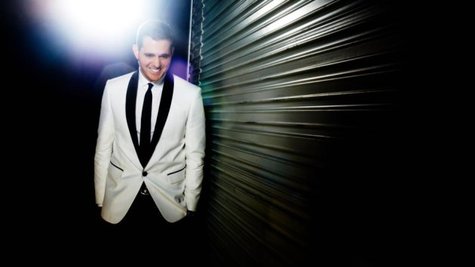 After several weeks of teasing, Michael Buble has finally let his fans in on all the details of his brand-new album. It's called To Be Loved , and it'll be in stores April 23; the first single, "It's A Beautiful Day," will be out February 25. From its title, that appears to be the song that Michael's been sneak-peeking in a series of brief videos.
As has been rumored for quite some time, To Be Loved includes a duet between Michael and Oscar-winning actress Reese Witherspoon, who proved she could sing in the movie Walk the Line . The two team up for a version of the Frank & Nancy Sinatra classic "Something Stupid."
As with most of Michael's albums, To Be Loved includes new, original songs that he co-wrote, as well as cover versions of some classics. This time around, Michael's putting his unique spin on the Bee Gees' "To Love Somebody," the Jackson 5's "Who's Loving You," Jackie Wilson's "To Be Loved," Dean Martin's "Nevertheless (I'm in Love with You)," and Elvis Presley's take on "Have I Told You Lately," which was a big hit in Michael's home country of Canada in 1957 but never charted in the U.S.
There are four originals on To Be Loved , including the first single, and a song called "After All," co-written by fellow Canadian music star Bryan Adams , who also sings on it.
In a statement, Michael said, "My new record is about love, happiness, fun and yummy things...I love the songs we selected this time out. It was also terrific working once again with my songwriting partners."
Copyright 2013 ABC News Radio