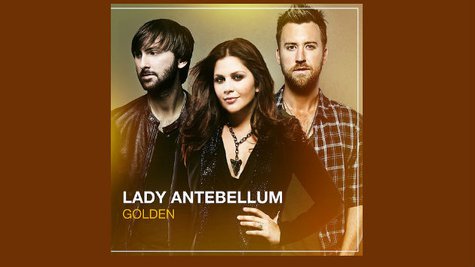 Lady Antebellum 's fourth studio album, Golden , is due out May 7. The group performed the title cut for the first time in public on ABC's Good Morning America Tuesday, and they'll be back on GMA for a performance the day the album drops.
The overall feel of Golden is much lighter than Lady A's previous albums, and that carefree vibe was influenced by the group's 2012 Own the Night World Tour. "We just got off our first arena and amphitheater tour. So, we were like, 'We need some anthems. Some big fun songs,''" explains Lady A's Charles Kelley . Group member Hillary Scott adds, "There's a whole new sass to this record."
All three members of Lady A are now married, and Hillary is expecting her first child with husband, drummer Chris Tyrell , this summer. With all three members in such a great place in their lives right now, the song "Golden" and the album title really sums up how Lady Antebellum is feeling these days.
Dave Haywood says, "It reminded us of that moment when the three of us met and wrote our very first song. Kind of that golden moment back in time. So, we wanted to kind of capture that memory in the song. It kind of fits for us."
Copyright 2013 ABC News Radio