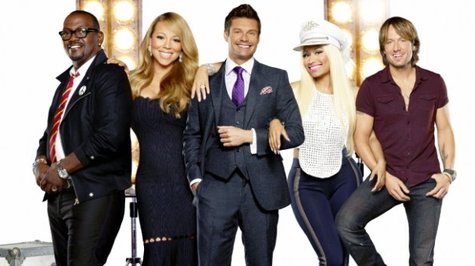 American Idol introduced a new sudden death round to the auditions process Wednesday night. Ten female hopefuls sang in front of a live audience and judges Mariah Carey , Nicki Minaj , Keith Urban and Randy Jackson at The Mirage in Las Vegas. At the end of the night, only five would remain in the competition based on the judges' decision, and Jimmy Iovine was on hand to break any split decisions between the judges.
Ultimately, Tenna Torres , Kree Harrison , Angela Miller , Amber Holcomb and Adriana Latonio survived this round. Here's what happened to get to those results:
High school student Jenny Beth Willis started the night off with Trisha Yearwood 's country hit "Heaven, Heartache and the Power of Love." Keith thought it was a great way to start the show, but he wasn't sure it was the best song for Jenny Beth. Nicki didn't feel like she came alive until the end of the performance, and Randy thought it was a little jerky in the tempo department. Mariah encouraged her to dip into the lower, richer part of her voice. Jenny Beth didn't make the cut though.
Tenna Torres delivered powerful vocals on Natasha Bedingfield 's "Soulmate." Keith said it was a beautiful song for her, and Nicki said Tenna's vocal tone reminded her of '80s R&B singers. Nicki didn't like Tenna's new hairdo though. Randy said she connected with the emotion of the song, and Mariah thought Tenna gave every bit of herself to the song. She earned a spot in the night's top five.
Alaskan resident Adriana Latonio escaped elimination singing Aretha Franklin 's "Ain't No Way." Keith felt Adriana channeled into all the soul the song required, and Nicki said she commanded the stage. Randy said the 17-year-old Adriana was born to sing, while Mariah gave her an A-plus on her performance.
Brandy Hotard went with Travis Tritt 's '90s country hit "Anymore," and Keith appreciated that a girl was singing that song. He didn't think Brandy connected with the song emotionally, and Nicki didn't like Brandy smiling while singing such a sad song. Randy echoed Keith and Nicki's thoughts, but Mariah thought Brandy was a beautiful person who sang a beautiful song. Brandy got cut in the end and will return to her life as a psychiatric nurse.
Shubha Vedula played piano at the top of her performance of Lady Gaga 's "Born This Way," before taking the mic out to stand for a rocking take on the song. It was inventive even if Shubha seemed a little timid at times during the performance. Keith said she crammed a lot into the 90-second performance, but he said her voice shone through the somewhat muddled arrangement. Nicki said the arrangement was too busy and called her vocal delivery a mash-up between Christina Aguilera and Psy of "Gangnum Style" fame. Randy thought Shubha had great potential, and Mariah thought she should have done the entire performance at the piano. Though she showed off everything in her bag of tricks, Shubha was eliminated.
Kamaria Ousley has sung background vocals for Diddy - Dirty Money and Ledisi , but she didn't make it this season on American Idol . She sang former Idol champ Kelly Clarkson 's hit "Mr. Know It All," but Kamaria experienced some pitch problems throughout the performance. Keith didn't think she connected with the song and got too theatrical with the performance. Nicki liked Kamaria's look, but she didn't like the vocals. Randy said it didn't catch on, and Mariah thought Kamaria struggled to hear herself onstage.
Kree Harrison was a shoe-in for the top five with her performance of Patty Griffin 's song "Up to the Mountain (MLK Song)," which has been covered by Kelly Clarkson in the past few years. During the performance, Kree showed off a vocal confidence allowing her to build up to a big finish. Keith called her a "natural born singer" with an "effortless believability," and Nicki said Kree made love to the song every time she performed. Randy thought it was "effortless" and "well done," and Mariah said Kree sang the hell out of the song.
Angela Miller worked the stage singing Jessie J 's "Nobody's Perfect." Keith said she had a huge talent and a big gift. Nicki couldn't get over Angela's original song performance back in Hollywood calling it "the most beautiful thing I have experienced since I've been doing Idol. " Nicki encouraged her to not just lay back in her talent. Randy said Angela was on her way to being a superstar, and Mariah encouraged Angela to keep writing new music. Angela will be going forward in the competition.
Isabelle hails from Georgia and showed off her jazzy, big voice singing Billie Holiday 's classic "God Bless the Child." Nicki was proud of Isabelle for overcoming a childhood weight problem to get to this point. Randy thought she was a great inspiration with her story, but he felt Isabelle's arrangement was a little old fashioned. Mariah said Isabelle's vocal and her heart were selling the performance, but it wasn't enough to keep her from elimination.
Amber Holcomb kept the classic vibe going with "My Funny Valentine," delivering a confident R&B vocal that had the judges smiling. Keith said Amber made it hard on all the other contestants with that timeless performance. Nicki said the vocal was at the top of the class, and Randy told Amber she shouldn't doubt herself anymore in the competition. Mariah thought the performance was so good she wanted to smack Amber. She'll be going on in the competition.
Ten guys perform Thursday night in another sudden death round on American Idol . The show gets underway at 8 p.m. Eastern on Fox.
Copyright 2013 ABC News Radio