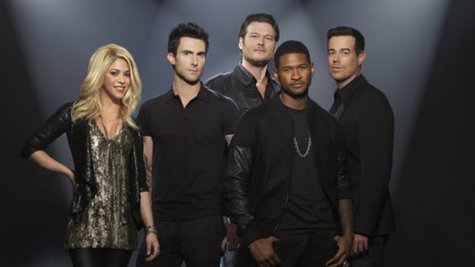 When the new season of The Voice premieres next month, viewers will see a new panel: Cee Lo Green and Christina Aguilera are out -- temporarily -- and Usher and Shakira are in. And veteran coaches Blake Shelton and Adam Levine say they want to make sure that the two newbies' entrance onto the show isn't painless and easy. In other words, they need to haze them.
"You know, Adam and I honestly have been texting back and forth a little bit, like, 'Man, we gotta give these people some crap,'" Blake says in a new video promoting the show's new season. "They can't just be coming in here and acting like it's all normal and this is where they belong. 'Cause they don't. They're outsiders right now."
In that same video, Adam asks Blake, "So, we got some new blood here. Should we haze 'em?" Blake responds, " Yes , we should haze 'em!"
Of course, Blake and Adam are just joking. Speaking about Usher and Shakira, Adam just told the Canadian Press , "We obviously respect the hell out of them and their careers. It's been fun. They have a quick capacity to learn so it's been...an effortless transition."
While Blake and Adam talk trash, Usher is quietly planning his own strategy which, in the real world, helped him to mentor Justin Bieber to the top of the charts.
He says of joining The Voice , "The fun part about it is recognizing the talent, and the audience, for the first time, being introduced to someone who will have an incredible future. The rest of it is in mentoring and just really kind of challenging them to be their greatest selves."
And Usher says the members of Team Usher should be prepared to put in the work, because he's not going to let them slide.
"As my mentors did [with] me, I plan on doing the the same with Team Usher," he says. "It's not going to be easy but it will be worthwhile, and if you really do want a career that will last, then you're willing to take the time to learn."
So what kind of coach will Usher be, compared to the rest of the lineup? "I mean, I'm an honest person, I'm brutally honest," says Usher. "And I'm transparent...if it's not right, I'm going to say, 'Listen, you can do better. I know: I've seen you do better.'"
The new season of The Voice premieres March 25 on NBC.
Copyright 2013 ABC News Radio