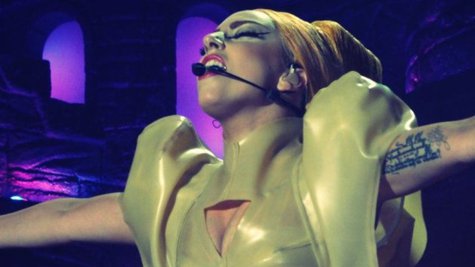 Lady Gaga has apparently come through surgery for her injured hip just fine, and she says she has her fans to thank for it.
Gaga tweeted on Wednesday that she was about to go into surgery. Now, in a letter posted on her social networking site LittleMonsters.com early Thursday morning, Gaga writes, "Monsters, you really gave me a lot of strength today. Everything happened so fast, but when it came time to face it I reflected on the many stories and experiences you've shared with me about your lives."
She added that meeting her fans, and watching them come together and form a global community has "blown her mind."
The singer continued, "As they wheeled me into surgery today, I thought about all of your pain and perseverance, your unique family situations, school environments, health issues, homelessness, identity struggles -- sometimes you are so brave that it terrifies me. I wonder how it's even possible."
The star noted, "I thought to myself, 'I'm alive, I'm living my dream, and this is just a bump in the road.' I'm grateful because this is temporary, and for some it is not."
Revealing that her fans have "changed my life," Gaga concluded by saying, "I love you and am proud to be a part of your lives. If you can do it, I can do it too, and if we stick together we can get through anything."
Gaga was forced to cancel the remaining dates on her Born This Way Ball tour after suffering from a labral tear in the right hip. Originally, she thought it was simply inflammation caused by an injury she'd suffered on stage, but when she was unable to walk, doctors discovered that she'd torn the labrum, which is a ring of cartilage surrounding the hip socket.
Doctors who have not treated the singer have predicted that she'll need three to six months to recover fully from the surgery.
Copyright 2013 ABC News Radio