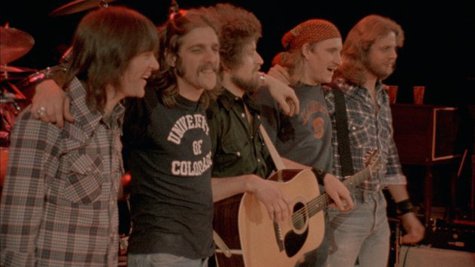 The History of the Eagles documentary just debuted on Showtime this past weekend, and though he appears in it, the band's former guitarist Don Felder says he's not exactly thrilled with the finished product...because he doesn't think it's accurate.
Speaking to Billboard , Felder, who was fired from the Eagles in 2001, says that while it was a "pleasure and a delight" to be part of the project, and to watch all the vintage footage, he doesn't think the film told the whole story.
"I didn't think it was really an accurate documentary," Felder maintains. "I thought a lot was omitted...There were a lot of things that weren't discussed, a lot of issues that aren't brought to the forefront." He feels that the two-part doc "glorified" Don Henley and Glenn Frey , while giving "very little credit" to the other members of band, including himself and fellow ex-members Randy Meisner and Bernie Leadon .
"It was a large team of a lot of people working together to make it happen, and I don't think that's really reflected in there," he tells Billboard .
In addition, Felder says the documentary made it look as though Henley and Frey never had any disagreements, which he claims wasn't the case.
"They portrayed it like they'd been best buddies since '71 or something, but there's been quite a few times between them, too," he says. "There was always a lot of friction and tension going on. We had some fun times, but there were also a lot of stressful arguing and disputes and disagreements and words being thrown around."
That's certainly on display at the end of the first part of the documentary, where a furious Frey threatens to kill Felder as soon as they're done performing at a benefit concert.
Overall, though, Felder says he got a kick out of checking out the film just to see "how skinny I was," and remarking on the fact that, in this world of high-tech, super-charged, special-effects-laden concerts, the Eagles just got on stage and played.
"Here's a huge rock 'n' roll band on stage with ripped jeans and plaid shirts, as far from the mega shows you see today as you can get," notes Felder. "You look back and realize that what came across was nothing except five guys standing on stage, playing and singing songs. That's really what it was all about."
Copyright 2013 ABC News Radio