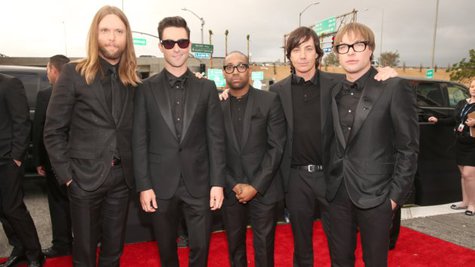 Adam Levine 's exposure and fame have by now nearly eclipsed those of his group Maroon 5 , but the singer says he has no plans to leave the band, even if he is about to make his movie debut opposite some Oscar-nominated actors.
Asked by Entertainment Tonight Canada if he'd ever go solo, Adam said, "If anything I'll probably make a record on my own with people, doing some sort of interesting cover record or something like that, but it won't be me going solo. It'll be me doing something on my own and then returning to the band."
There's no timetable for this "interesting cover record," however; Adam's currently on tour with Maroon 5, and then he's off to do the live rounds of season four of The Voice.
Meanwhile, the singer is feeling confident about the job he did in Can a Song Save Your Life? , his upcoming movie debut, in which he plays Keira Knightley 's boyfriend; Mark Ruffalo is also in the film. He tells ET Canada , "I'm really hard on myself so I knew that [if I was bad], I would feel that gross feeling of like, 'Oh dude I'm never doing this again, I'm so bad.' And I wasn't. I didn't get that feeling."
That doesn't mean that Adam thinks he's ready for an Oscar, though. "I didn't say I was good," he laughs. "But I definitely didn't suck. No one's gonna be like, 'That guy sucks in that movie!'" We'll be the judge of that, Adam. The movie will be out later this year.
Copyright 2013 ABC News Radio