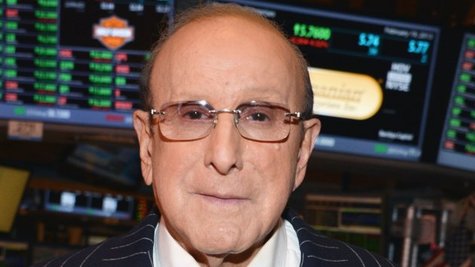 After the release of The Soundtrack of My Life, legendary record executive Clive Davis' autobiography, Kelly Clarkson went on an online rant claiming that Davis was spreading "false information" about her and their working relationship. Davis reiterated via Twitter that he believes his version of events is correct, but he says there are no hard feelings between him and the original American Idol .
"I don't know the reason for it," Davis tells ABC News Radio after being asked to explain how his and Kelly's accounts could be so different. "The important point to know is I believed in Kelly since the beginning. I brought her hit songs like 'Since U Been Gone,' 'Behind These Hazel Eyes,' 'Breakaway,' right from the beginning."
Davis goes on to say that "there's a difference in memory in two basic issues" between him and Kelly. He claims Kelly told him that she hated "Since U Been Gone" and "Behind These Hazel Eyes," and when he insisted that she put them on her album, she burst into "hysterical sobs."
Kelly, meanwhile, says she didn't hate those songs, and while she did cry, it was because Davis told her that he hated her self-penned song "Because of You" and didn't want it on her album. Davis, however, claims he loved that tune.
"I stand behind my book," Davis tells ABC News Radio. "I submitted the chapter to the five people who were there every day. I have no particular point of view about it other than to state what did occur, and they have totally ratified every word that was there." And Davis says he has no problem working with Kelly -- after all, he's still a top executive at her record company -- and thinks she's fantastic.
"Kelly Clarkson is an artist that has major talent," Davis says. "And I'm certainly here to say that having seen her at the Grammys, her interpretation of 'Tennessee Waltz' and 'Natural Woman' was very special, quite spectacular. And Kelly Clarkson derserves and should have a long career, so this is all momentary stuff to me."
In The Soundtrack of My Life , Davis recounts signing major artists like Bruce Springsteen , helping to revive the careers of Carlos Sanatana , Rod Stewart and Aretha Franklin , and raising Whitney Houston to superstar status. He reprints several letters he wrote to Whitney, begging her to get help for her problems, to no avail. A year later, he's still devastated by her shocking death.
"I was just with her three days before she died," he tells ABC News Radio. "She was so looking forward to the future. We spent the whole afternoon in my bungalow at the Beverly Hills Hotel with her saying...'I'm cutting cigarettes out. I'll be ready for a new album in August.'" He calls her loss "a terrible tragedy."
As for why he thinks people who aren't in the music industry would want to read his hefty memoir, Davis tells ABC News Radio, "This is hopefully the story of contemporary music over the last several decades...interest in this book has way gone beyond any industry interest, I'm happy to say." Of course, that could be due to the attention it's gotten over the feud with Kelly, and over Davis' surprise revelation that he's bisexual.
"I'm hopeful, without being a martyr on the subject, that [the book helps people understand] that bisexuality does exist," says Davis. "If it's a force for positive enlightenment, I'm all for it."
Copyright 2013 ABC News Radio