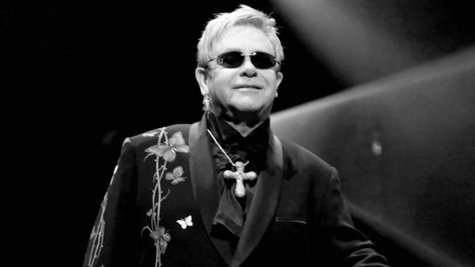 After some tweaking and re-tweaking, Elton John's new album The Diving Board is finally ready, and may be released in September.
Rolling Stone reports that Elton hosted a listening party for the album Friday in L.A., and told those assembled that The Diving Board is "the most adult record I can make at my age," and that it's also " the most piano-orientated record I've ever made." The 13-track album features songs co-written with Elton's longtime creative partner Bernie Taupin , and produced by T Bone Burnett , who also produced Elton's acclaimed album with Leon Russell, The Union.

As for what it sounds like, Elton described The Diving Board as "everything I love about American music:" a mix of gospel, blues, jazz, brass band music, pop and a waltz.
Here's the track listing:
"Oceans Away"
"Oscar Wilde Gets Out"
"A Town Called Jubilee"
"The Ballad of Blind Tom"
"My Quicksand"
"Can't Stay Alone Tonight"
"Voyeur"
"Home Again"
"Take This Dirty Water"
"The New Fever Waltz"
"Mexican Vacation (Kids in the Candlelight)"
"Candlelit Bedroom"
"The Diving Board"
Copyright 2013 ABC News Radio