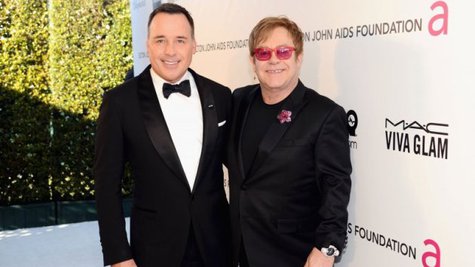 This year, Elton John 's AIDS Foundation announced that it had reached a milestone of $300 million raised for the cause -- and on Sunday night, millions more were added to that total.
The 21st annual Elton John AIDS Foundation Academy Awards Viewing Party raked in a whopping six million bucks, thanks to donations from top stars who attended, as well as those who ponied up big bucks for some special auction items. For example, two sets of tickets to attend next year's Vanity Fair Oscar party with Elton and his husband, David Furnish , sold for $150,000 each. The opportunity to stay at Aerosmith frontman Steven Tyler 's Hawaiian retreat for five days brought in $250,000, while John also auctioned off four private performances by himself for $250,000 a piece.
John, Furnish and Tyler were all on hand for the party of course, as was Elton and David's older son, Zachary . Other stars who showed up to support John and the cause included U2 's Bono , Foo Fighters ' Dave Grohl , Quincy Jones , Randy Jackson , Jim Carrey , Miley Cyrus , Michael Buble , Sharon Stone , Tim Allen , Heidi Klum , Jane Lynch , Kelly Osbourne , Kim Kardashian , Naomi Campbell , Anna Paquin , Britney Spears and many more.
On the red carpet before the event, Elton said of the party, "It's gotten to be such a status event...every year seems to be bigger and better. It gives us an opportunity to raise more money for AIDS and make more people aware." But, he added, he's not resting on his laurels. "We're very proud of what we do but we don't look back; we look forward. There's more to do."
At the party, John told his guests, "Activism is needed now more than ever if we are to achieve the promise of an AIDS-free generation...And I promise you that we'll keep on fighting until the politics and bureaucracies yield to reason and justice. I don't care how long it takes, we're going to fight, and we're going to win."
Copyright 2013 ABC News Radio