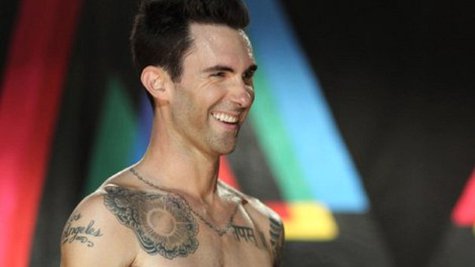 Fresh from launching his own fragrance, Adam Levine is now gearing up to debut his own clothing line. But the fashion-conscious singer says that when it comes to other singers' styles, one stands above the rest: Elton John .
Asked by MTV which musician's closet he'd most like to raid, Adam replied, "Elton John, for sure. I bet he's got some crazy s*** in there...I would love to check that out."
For inspiration for his clothing line 222, which will debut at Kmart later this year, Adam is asking fans to submit design ideas to the website Shop Your Way . Asked why he decided to solicit fans for their input on this, Adam told MTV, "I just always want to know what fans want. I think that we make music that way, so why would this creative thing be any different? We're always wanting to know what makes them tick, and what they love."
As for why he wants to get into the clothing biz, Adam tells MTV, "I've just always thought it would be cool to have a line that reflected your personal taste. I have a lot of opinions on everything, but fashion in particular." Of course, fashion also runs in Adam's blood: his dad owns a chain of Los Angeles clothing boutiques called M. Frederic.
Copyright 2013 ABC News Radio