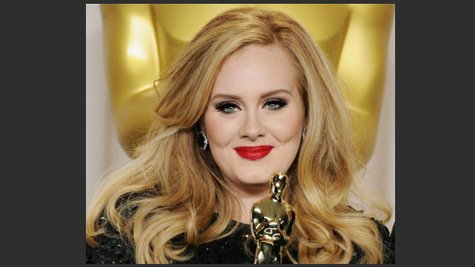 The theme of Sunday night's Oscars was musicals, and now the musicians who performed on the show are poised to see big sales increases of their songs, including Adele , Jennifer Hudson and more.
Billboard reports that in addition to earning an Oscar statuette, Adele will also be rewarded with a 45 percent increase in sales of her James Bond theme "Skyfall." Of course, the song was already popular: it's the first Academy Award-winning song to have been a Top 10 Billboard hit since Eminem 's "Lose Yourself" back in 2003.
Meanwhile, another James Bond theme, "Goldfinger," as sung by Shirley Bassey on the Oscar telecast, could see a sales increase of over 275 percent. In fact, despite not having been nominated, Bassey came out of the Oscars a big winner: Billboard reports that after her performance, she was mentioned 36,000 times on Twitter, as compared to just 150 mentions a day earlier. Traffic to her Wikipedia page also increased by 30 percent the day of the Oscars.
Jennifer Hudson, who brought down the house with her signature tune "And I Am Telling You I'm Not Going," could see a more than 200 percent sales gain for that song, according to Billboard , while the soundtracks of Dreamgirls, Chicago and Les Miserables will see similar increases.
As for the ultimate diva, Barbra Streisand , sales of her tune "The Way We Were," which she sang as a tribute to the late composer Marvin Hamlisch , could increase by around 175 percent.
Copyright 2013 ABC News Radio