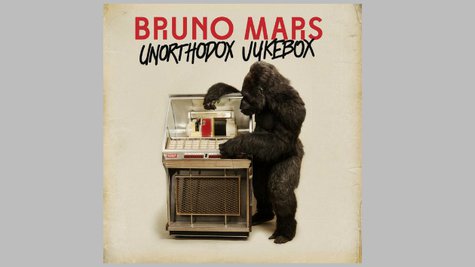 Bruno Mars' album Unorthodox Jukebox may have spun off two top-10 hits, but so far, it's been "locked out" of the #1 spot on the Billboard album chart, peaking at #2. In fact, despite his success, Bruno has never had a #1 album: his debut, Doo-Wops and Hooligans , peaked at #3. However, that may all change by next week, thanks to Amazon.
Billboard reports that on Tuesday, Amazon put Unorthodox Jukebox and other albums on sale for the low price of $1.99. The price slash has led to robust sales, and sources tell Billboard that the disc could jump to #1 next week, with sales of 70 to 80 thousand copies. We'll find out next Wednesday if Bruno finally gets his #1. The album's currently in the top 10.
Meanwhile, Bruno's looking forward to another milestone: a platinum certification for Unorthodox Jukebox . So far, it's sold 865,000 copies total, according to Nielsen Soundscan, but it needs a million to go platinum.
Copyright 2013 ABC News Radio