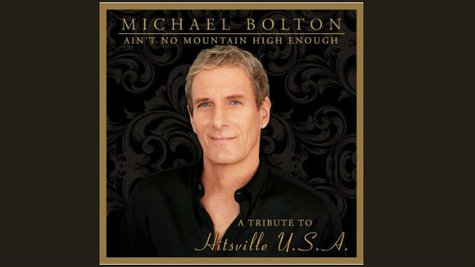 Throughout his career, Michael Bolton 's put his own spin on quite a few soul classics, starting with his breakout 1987 hit, a cover of Otis Redding 's "(Sittin' On) The Dock of the Bay." Now, he brings his vocal talents to one of the greatest catalogs of soul music in history: Motown.
Michael's new album Ain't No Mountain High Enough: A Tribute to Hitsville U.S.A . is in stores this week, and as the name suggests, it features Michael belting out Motown classics like "You Keep Me Hanging On," "What's Going On," "The Tracks of My Tears," "The Way You Do the Things You Do" and "How Sweet It Is (to Be Loved by You)." He's joined for two tracks on the record by two R&B divas: Kelly Rowland of Destiny's Child and singer Melanie Fiona .
Michael says that taking on these beloved classics is pretty daunting. "These songs are in all of our DNA and these performances -- the Marvin Gaye-Tammi Terrell duets, you know, Tempts, Smokey -- I mean, those are the definitive versions," he tells ABC News Radio. "You just have to bring your thing to it and hope that people appreciate your take on it, and just pour yourself into it."
The singer, who recently published his autobiography, adds that so far, his fans seem pretty happy with his versions of the Motown hits. "We just started adding some of the material in my live show and I talk a little bit about Detroit and Hitsville," Michael says. "And then I say, 'And this is...,' and we go into 'Ain't No Mountain High Enough,' and something happens to the audience. I can see their faces light up. I can see them become energized and beam."
Of course, that might not be just because Michael's singing the songs: it's also the songs themselves. "It's such feelgood music and I think people really need that more than ever," he tells ABC News Radio.
Michael has a handful of live dates lined up so far for 2013, with more to come.
Copyright 2013 ABC News Radio