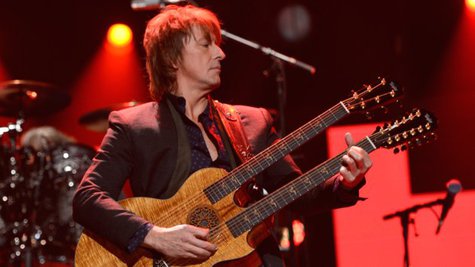 Bon Jovi will be headlining a huge show in London's Hyde Park on July 12, but once again, guitarist Richie Sambora won't be onstage with them. However, he's hinting that this fall might see his return to the stage with Jon Bon Jovi and the rest of the group.
Richie hasn't performed with the band since April, and will only cite "personal matters" as the reason for his absence. Speaking to the British paper The Sun at an L.A. event promoting his fashion line , he said of the Hyde Park gig, "I truly want to be there and I feel very sad for the fans that I won't be performing. I love the fans, I love the band. Jon and I have been tight for like thirty years, so all of this is very sad and it affects so many people around us."
But what exactly is the issue that's keeping him from the band? Sambora would only say that it's "a family drama...and it will be resolved." He added, "I'll be in Paris with my daughter Ava while the band rocks the U.K. But let's see what happens at the end of summer. September's looking good. So, maybe September."
Richie later tweeted, "Hey all, to those who saw that interview from the fashion show it was about my hopes. Nothing's really happening yet."
Copyright 2013 ABC News Radio