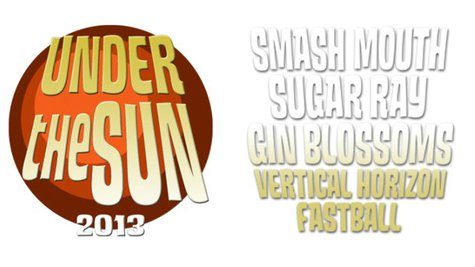 T he Goo Goo Dolls and Matchbox Twenty are touring together this summer, but they insist that it's not a "'90s Nostalgia" tour. If that's actually what you want to spend your summer concert money on, though, there's one kicking off tonight in Albuquerque, New Mexico.
The Under the Sun 2013 tour features Sugar Ray , joined by fellow '90s hitmakers Smash Mouth and the Gin Blossoms , with Vertical Horizon and Fastball along for support. Sugar Ray frontman Mark McGrath is the ringmaster for the whole event, and the driving force behind it, and he tells ABC News Radio, "Don't come if you hate #1 songs from the '90s. If you love them, this is your tour."
The way Mark figures it, the Under the Sun tour will give you your money's worth because it's all killer, and no filler. That means you'll hear all the big songs you love -- like Sugar Ray's "Every Morning" -- and none of the boring new stuff.
"That's what the story about Under the Sun is," he explains. "You're not going to hear a lot of, 'Hey! Here's a new one.' I discourage that. I think it's the only tour in the world where I discourage new material, you know what I mean? I want to hear the hits. I want to hear them done as you remember them in the '90s and I want quick changeovers for the bands." In other words, he says, you won't have to wait more than 15 minutes for one band to leave and another to take the stage.
As for how he decided which bands would join him and Sugar Ray on the road, Mark explains, "I reached out to my friends....there's nothing more fun than going on the road with your friends. And, sort of, bands that are in our wheelhouse: bands that went multi-platinum, had number one songs. And we didn't have to look too far to know that Smash Mouth was one of those."
As for the Gin Blossoms, Mark laughs, "You forget how many hit singles The Gin Blossoms had. They forget how many singles The Gin Blossoms had!"
Mark feels that the nostalgia for the '90s hasn't really been tapped into yet, because, as he says, "The '90s never really died." He points out that many of today's top touring artists are bands from the '90s, for example. "I'd say we're three to four years from an ironic Sugar Ray t-shirt being in Urban Outfitters," he laughs. "And that's when you'll know the '90s nostalgia has really kicked in."
The second night of the tour, in Scorro, Texas, will take place on July 4, and Mark says playing on Independence Day is always a special experience for him and Sugar Ray.
"You're out there and people are really caught up in the passion of the day. They're having more fun than they normally would, if you know what I'm saying," he laughs. "And when you hit that stage it's sort of in a small way -- it's going to sound really cheesy especially coming from me -- but it's like, it's what freedom's about. You know, being on stage; the release of music and letting it all go."
The Under the Sun tour wraps up August 17 in Houston, Texas. Visit UndertheSun.com for complete ticket information.
Copyright 2013 ABC News Radio