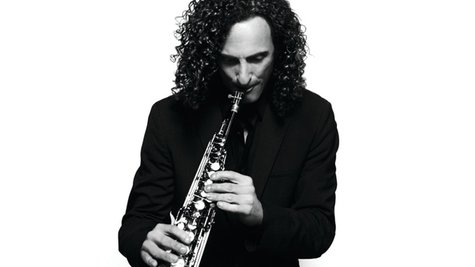 How's this for an unlikely collaboration: Kenny G and Dave Mustaine , the leader of the heavy metal band Megadeth .
It's for a new FunnyOrDie sketch that parodies Men's Wearhouse. Mustaine pretends to shoot a commercial for "Megadeth Wearhouse," explaining that his band's new album, Super Collider , helped energize a young man prior to a job interview.
Afterward, it is revealed that Kenny was playing his sax for the ad as Mustaine taped his segment. Kenny teases the suit-wearing Mustaine by saying, "Looks like your mom dressed you up for picture day." Mustaine responds by calling Kenny a swear word.
The sketch ends with a plug for a fictional barbecue sauce bearing Kenny's name and likeness. Kenny claims, "It hits the Kenny G spot...in your taste buds."
Back in December, Mustaine posted a rant on his Facebook page after Men's Warehouse failed to deliver a gift certificate to Megadeth's tour manager in time for Christmas.
Copyright 2013 ABC News Radio