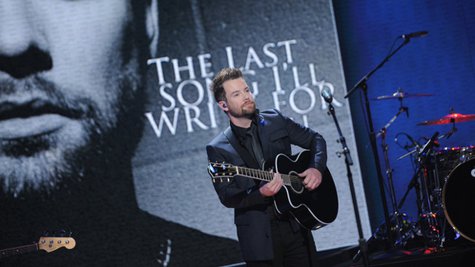 Most American Idol contestants probably dream about fronting a band. So imagine being offered that chance -- and having to turn it down. Turns out it happened to not one, but two Idol alumni.
The manager of Hinder , best known for their 2006 hit "Lips of an Angel," tells The Hollywood Reporter that David Cook was offered a chance to join the band on its current tour while their usual singer, Austin Winkler , is on hiatus for personal reasons. David reportedly was "very interested" but said no, because he's working on new music. The Hollywood Reporter adds that he's contemplating signing a record deal with Universal Music Group's Verve label. He parted ways with RCA Records last year.
Hinder manager Kevin "Chief" Zaruk says that in addition to David, the band contacted American Idol season-10 contestant James Durbin . Zaruk laments, "We would've loved to have either, but the timing didn't work out."
James is currently preparing his second studio album.
It wouldn't have been that unusual for an American Idol contestant to act as a fill-in singer for a rock band. Adam Lambert has performed with Queen on several occasions.
Hinder ended up hiring two replacements, including a musician who co-produced their latest album.
Copyright 2013 ABC News Radio