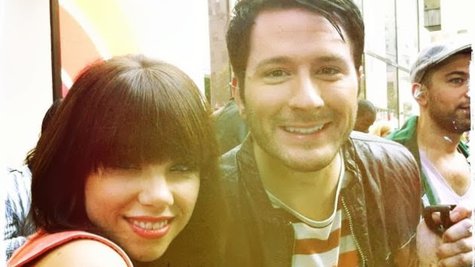 "Good Time," a collaboration between Carly Rae Jepsen and Adam Young , the artist who records under the name Owl City , was the perfect summer song when it came out last year, and it continues to set the bar high for all feel-good summer tunes. But Carly reveals that she and Adam didn't have a "good time" recording the duet together in the studio....because they didn't actually meet until weeks after the song was created.
"It was really cool that I got to sing on that track, but we didn't actually meet until the video that we shot together," Carly explains. "He was interested in having me sing the song; I responded back saying I was into the idea as well." Not long after that, Carly says, she and her producer cut her part of the song at three in the morning. Then, through the magic of technology, the duet was created.
"We sent him the files, he produced it that night, and like, literally, a couple weeks later I heard it on the radio," Carly laughs.
When Carly and Adam did meet, on the set of the "Good Time" video, luckily, the two actually got along, avoiding any awkwardness of singing about good times while secretly hating each other.
"We had our first introduction on the day of the shoot and we became fast friends," Carly confirms. "And now I've got to do a couple performances with him here and there, and it turns out that we like each other a lot. So, that's a bonus!"
It's not clear when Carly and Adam will next be able to perform the song live together. They're both playing the New York State Fair next month, for example, but on different days.
Copyright 2013 ABC News Radio