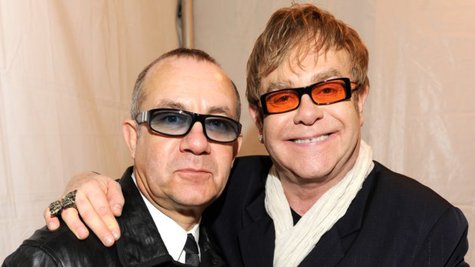 On Monday in New York City, Elton John 's songwriting partner Bernie Taupin and producer T Bone Burnett hosted a listening party for John's new album, The Diving Board , which is due out this fall. And Taupin told the invited guests that he feels that the three of them have created an album that reflects Elton's artistic maturity.
"It really befits our years," said Bernie of The Diving Board, adding, "We're telling stories, and that's what we do best. I'm amazingly proud of this record." Burnett, meanwhile, said that the disc represents John "at the peak of his powers," and noted that they had created the album "for history."
The album, which puts Elton's voice and piano playing front and center, has a rootsy sound that's reminiscent of his earlier work, especially the 1970 album Tumbleweed Connection . As Taupin notes, many of the songs do tell stories; for example, one, "Oscar Wilde Gets Out," was inspired by real-life Irish playwright and poet Oscar Wilde , who was imprisoned during the 1800s for being gay. Another, "The Ballad of Blind Tom," was inspired by the true story of Blind Tom Wiggins , an autistic African-American slave who was a piano-playing musical prodigy.
Musically, the songs on The Diving Board range from gospel, to regretful ballads, to torch songs, to '50s-style rock 'n' roll, to country. Earlier this year, Elton said of the record, " I can honestly say that this is the first time for a long time that I've got an album...and every single track and every single vocal I really love."
As for why John himself wasn't at the listening party, he, his partner David and their two sons, Elijah and Zachary , are currently vacationing in Italy .
Copyright 2013 ABC News Radio