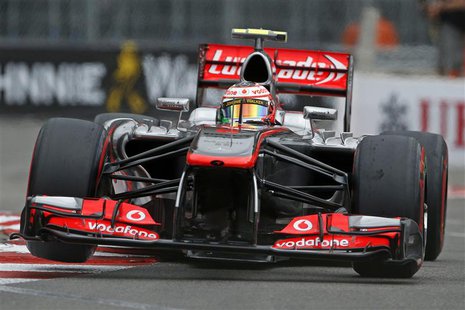 MONTREAL (Reuters) - Sergio Perez has defended himself against criticism that he drove like "an idiot" at last month's Monaco Grand Prix, insisting he did nothing wrong.
The Mexican came under fire from rival drivers after he collided with Formula One title contender Kimi Raikkonen in the most recent race of the championship but was adamant he was not to blame.
"Every maneuver that you try to do in Monaco to try to overtake people is on the limit," Perez told reporters on Thursday ahead of this weekend's Canadian Grand Prix. "I did a couple of moves on the limit which at the end of the day went badly. The result was not the one I was expecting.
"But, I think the maneuvers I did, they were right. I did nothing stupid."
Perez made contact with Raikkonen when he tried to overtake him at the entrance to a chicane on the tight Monaco street circuit. Raikkonen's Lotus suffered a tire puncture and he fell back through the field before recovering to finish 10th.
Raikkonen, who is currently second behind Sebastian Vettel in the championship standings, suggested the 23-year-old McLaren driver needed a punch in the face.
But Perez, who failed to finish the race, said he was unfazed by the criticism and did not expect any lingering problems at Montreal's Circuit Gilles Villeneuve, another tricky street circuit.
"At the end of the day we are humans, and you are very upset, very angry, and straight away you want to criticize somebody," Perez said.
"I felt he ruined my race, he felt I ruined his race so it's very easy to make a comment straight away after the race.
"At the end of the day it happened. I'll move forward from that and I look forward to doing a great race here."
(Reporting by Julian Linden; Editing by Frank Pingue)