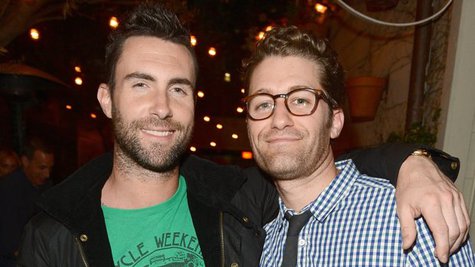 Matthew Morrison is using his summer break from playing Mr. Schu on Glee to do something productive: promote his brand new album, Where It All Began . The album of Broadway classics, in stores now, is the first to be released on Adam Levine 's record label, 222 Records.
"We've been friends over the last couple of years, just both living in L.A.," Matthew tells ABC News Radio, explaining how his collaboration with Adam came about. "And we were taking about music and I was really surprised to find out that he has such a fascination with this era and this kind of music, the standards."
Matt said that when he explained to Adam that an album of Broadway tunes was "the album that I've always wanted to make," Adam's reply was, "I want to make this album for you." The actor says he didn't really believe Adam at first, but says the Maroon 5 frontman "really came through" in terms of supporting him artistically so he could make his dream project.
But what about those reports that Adam and Matthew were recording a duet for the project? Was there actually talk of them collaborating? "There was," confirms Matthew, adding "I would've loved it if it happened, but I think the timing just didn't work out. He's got an incredibly busy schedule, as do I, and it wasn't in the cards this time." However, Matthew says he plans to release additional albums on 222 Records, so a duet will be "something to look forward to."
Where It All Began features Matthew, a Tony-nominated former Broadway star, putting his own spin on material from super-famous Broadway shows, including West Side Story, My Fair Lady and Guys & Dolls. He even recorded "Ease on Down the Road," from The Wiz, as a duet with Motown legend Smokey Robinson . The actor says he thinks that even younger fans who may not be familiar with the songs will want to check it out.
"You know I've been so lucky over the years on Glee to perform some great show tunes, songs specifically written for the theater, on global television," Matthew tells ABC News Radio. "And hopefully that has opened up this world of music to a brand new audience...these are songs that are timeless."
You can see Matthew perform his material on a new PBS special that's currently running, and he says he's going to try to do as many live dates as he can fit into his schedule. "We shoot Glee 10 months out of the year and I have two months off," he laughs. " I could be sitting on a beach right now with a Mai Tai in my hand, but all I want to do is have a microphone in my hand!"
As for the new season of Glee , Matthew says that nothing's even been scripted yet, but he says he's glad how the most recent season ended: with Will and Emma, his obsessive-compulsive guidance counselor girlfriend, getting hitched in a surprise wedding ceremony.
"I was so happy that we finally got married," says Matthew. "I think the audience was really looking forward to that moment as were Jayma, who plays Emma, and I -- we were really looking forward to it as well."
Copyright 2013 ABC News Radio