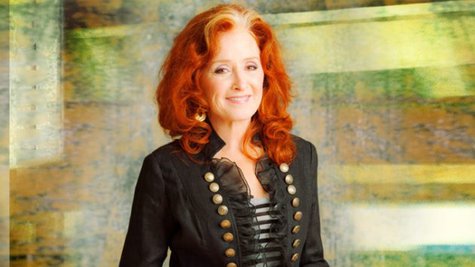 Bonnie Raitt seems to be having a banner career moment. Her 2012 album Slipstream , which she's still on the road supporting, was her highest-charting disc in years, and some of today's hottest pop stars are big fans, including Adele and Katy Perry . That's something about which Bonnie is thrilled.
It's fantastic!" she tells the London Daily Telegraph . "Katy Perry thinks I'm cool." And apparently, she has Katy's one-again-off-again boyfriend John Mayer to thank for that.
"He had given her a gift of these old records of mine," Bonnie explains. "And she said she did some three-hour hike up a volcano, listening only to all my deep album cuts from the 1970s."
Adele, of course, showed her admiration for Bonnie by including a version of the Rock and Roll Hall of Famer's 1991 hit "I Can't Make You Love Me" on her best-selling DVD, Live at the Royal Albert Hall.
"It makes me feel honored that people I admire so much like Adele...come up and say I've influenced them," says Bonnie.
Bonnie's currently on tour in Europe. She'll return to the U.S. for more dates in August.
Copyright 2013 ABC News Radio