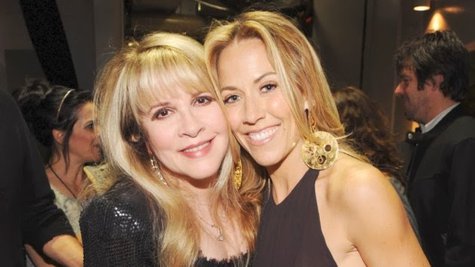 Stevie Nicks and Sheryl Crow are both rich, famous, beautiful rock stars, but that doesn't mean it's easy for them to get a date. The two women are friends, and they tell New York magazine that they often commiserate about how difficult it is to meet men.
"Like I'm gonna go to a bar!" laughs Stevie. "And hang out? I mean, where am I gonna meet somebody?" And even if they do meet a man, Sheryl says, he may not want to deal with their fame. "Relationships are hard enough, but to be a strong woman who's also in front of a large audience of people who are trying to connect with you -- it's threatening," she says.
Stevie tells the magazine that she and Sheryl actually joke around about the kinds of videos they'd record for a matchmaking service if they decided to go to those lengths to find a guy. Describing one, Stevie says, "Hi! My name is Stevie Nicks, and I'm looking for somebody that is no more than five years older than me. Please no health problems, no diabetes, no heart disease, no gout, please, no bipolar; if you're on an antidepressant, not good."
"When we were really young, it was a lot easier," the Fleetwood Mac frontwoman explains. "Because we were crazy...We moved fast and furiously in those days, and I had lots of boyfriends and lots of amazing relationships and lots and lots of fun." And now? Stevie says, "If that special man walked into my life, I'm the first one to say I would probably pack my bags and go with him. But it's a very elusive thing."
That's not to say that Stevie regrets her single life. "Most women would not be happy being me," she tells the magazine. "People say, 'But you're alone.' But I don't feel alone. I feel very un-alone. I feel very sparkly and excited about everything...Because I'll never be alone. I'll always be surrounded by people."
"I'm like the crystal ball and these are all the rings of Saturn around me," she adds.
Copyright 2013 ABC News Radio