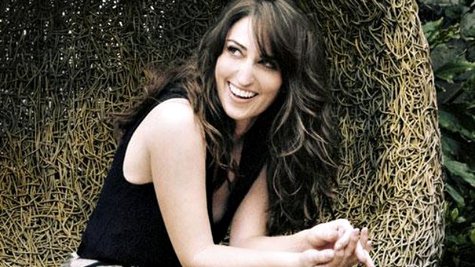 Following in the footsteps of Elton John , Cyndi Lauper and, soon, Sheryl Crow , Sara Bareilles has been tapped to write the music for a new Broadway show...and the team she's working with just took home a bunch of Tony Awards last weekend.
The Los Angeles Times reports that the musical is based on the quirky 2007 film Waitress, which starred Keri Russell as a pie-baking Southern waitress trapped in an unhappy marriage. It's being produced by the folks behind Pippin , which won the Tony Award for Best Musical Revival, and it'll be directed by the woman who just won the Tony for directing Pippin . The show's writer, meanwhile, is a Pulitzer Prize winner.
"The team has been built and we're in the very baby, preliminary stages of putting this together," Sara tells ABC News Radio. "Broadway scoring is something that has really been interesting to me my whole life. Musical theater is sort of how I got introduced to music at all, and so it feels like a nice home to come back to."
But Sara, who'll release her new album The Blessed Unrest next month, says she realizes being a Grammy-nominated pop star doesn't exactly prepare you for the experience of creating a musical, which requires writing songs for different characters and moving the action along.
"I realize I'm very green," she says. "I don't exactly know what I'm doing yet but I'm learning a lot! So yeah, I'm excited to kinda delve into this new territory and do my best to show up."
Asked to name some of the musicals that inspired her when she was younger, Sara mentions Les Miserables, as well as Phantom of the Opera, Miss Saigon and Chess . "These are just musicals that I got introduced to at a really early age so they kind of stuck with me," she tells ABC News Radio.
Copyright 2013 ABC News Radio