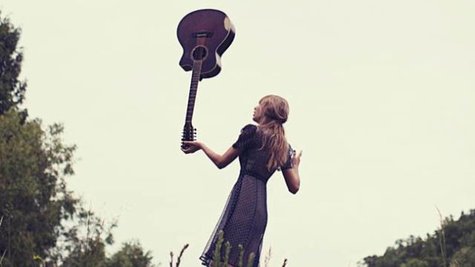 Over Memorial Day weekend, Taylor Swift was spotted hanging out with 16-year-old Hailee Steinfeld, who received an Oscar nomination for her starring role in the 2010 film True Grit. Now, Steinfeld reveals that Taylor is attempting to pass along some of her musical knowledge to her.
Speaking to E! Online , Steinfeld said that she's learning to play guitar, and "would love" to record a song with her pal Taylor, but doesn't think she's got the chops to do it. "I don't know if I could hold myself up next to her. She's so incredibly talented," explained Steinfeld. "She sort of attempted to teach me and it just doesn't work very well."
When it was pointed out to the actress that having Taylor Swift as your own personal guitar teacher is pretty awesome, she laughed and said, "Right? Not bad!"
We'll be able to see if Taylor's tutelage paid off when Steinfeld appears in the upcoming film Can a Song Save Your Life? -- she plays "a little bit of guitar" in that movie, which also features Adam Levine and Cee Lo Green .
Copyright 2013 ABC News Radio