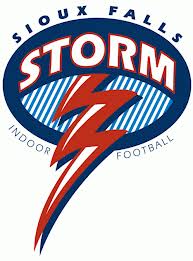 SIOUX FALLS, S.D. (KWSN)-The Sioux Falls Storm (9-4) have hit the long road south. The final game of the 2013 regular season will take place on Saturday night, just few miles north of Dallas, Texas. This will be second half of back to back games versus the Texas Revolution. The Storm have clinched a playoff berth and home-field advantage for the United Conference Championship game, which will take place next Saturday, June 22nd at the Sioux Falls Arena. But one aspect of the 2013 post-season has yet to be decided. Where will the 2013 United Bowl be held?
For the Storm faithful, this is an easy equation. If the Storm takes care of business in Texas this weekend, they would host every post-season game that they play. Assuming they get there, this includes the 2013 United Bowl. But let's not get ahead of ourselves. First…the Texas Revolution.
On paper, this game favors the Storm. The Storm boast the best defense in the league and the offense has hit stride over the last few weeks. Texas is second from the bottom spot in both categories. In addition to the fact that the Storm put a 59-16 crushing on the Revolution this past Saturday night, makes things look one-sided. But there is one factor that has seemed to erase any obvious Storm advantage throughout 2013. The road.
While the Storm are currently holding one of the longest home winning streaks in sports (32 consecutive wins). When they leave the friendly confines of the Arena, they have looked like a different team. The Storm's 2013 road record is just 2-4. It's probably fitting that it's going to take a road win to guarantee home-field throughout the post-season.
The Storm takes on the Texas Revolution this Saturday, June 15th at 7:05pm. The game will be broadcast live at Eastway Bowl, located at 3201 E. 10th street. Come enjoy the game with the Storm girls and staff. Storm gear will be given away throughout the night.
Can't make the party? Tune in to KELO AM 1320 & 107.9FM at 7:05pm to hear The Silver Fox, Rich Roste, give the play-by-play for the game.
Courtesy of Sioux Falls Storm