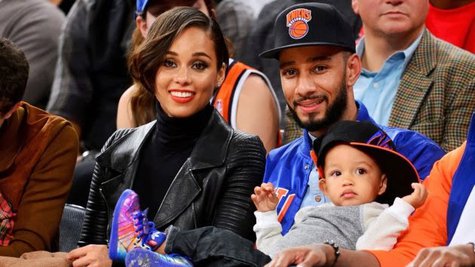 Alicia Keys was just four when she appeared on The Cosby Show , and when she was around 14, she linked up with her longtime manager Jeff Robinson . But when Alicia thinks of her two-year-old son, Egypt , going into the music business in about a decade, it kind of freaks her out.
She jokingly shrieked at the idea when it was suggested by a reporter for the U.K.'s London Evening Standard, but then admitted that it probably wouldn't be fair if she didn't support Egypt, should he decide to make music his career. But would she actually encourage it? That's a tough question for Alicia, who says, "Jesus... Well, he has crazy rhythm. So, yeah, man. But he has to do what makes him happy. And if it makes him light up, hell yeah, I want him to do it."
Not only that, but Alicia says she and her husband, producer Swizz Beatz, wouldn't be above using their music industry connections to smooth the path to stardom for little Egypt. "If my husband and I can fast-track him past the bulls**t a little bit, that would be cool," she told the Evening Standard .
Egypt is well on his way to a music career: he's already made his recording debut. The toddler shares a few words -- "Mommy," "I love you" and "bye-bye" -- on Alicia's track "When It's All Over," from her current album Girl on Fire.
Copyright 2013 ABC News Radio