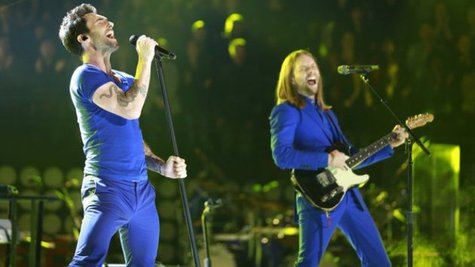 Season four of The Voice ends Tuesday night, and you'd think that the rest of Maroon 5 , who've got a big summer tour coming up, would be thrilled about the fact that they'll finally get their lead singer Adam Levine back full-time. But it turns out they'll have to wait a little longer before they can regroup and focus on music.
"When they wrap on Tuesday, we don't get him back," guitarist James Valentine says of Adam, telling ABC News Radio,"I know he's going straight to go golf. I don't think anyone will see him for a while. He's just going to go chillax."
And that's got to be frustrating for the band, since James admits that, while The Voice has done amazing things for Maroon 5's career, it has made it extremely difficult to get any time with Adam for band business while the show is on.
"If there is one downside of Adam doing the TV show, it's that he's been pulled in a million different directions," James tells ABC News Radio. "And scheduling for our management and our agent and all the people who make this stuff work has become sort of a nightmare, because he's in such high demand and every day there's something for him."
He adds, "I feel very sorry for him just in that when I look at his schedule, it's pretty insane."
But rest assured that Maroon 5 will be well-prepared for their summer tour with Kelly Clarkson , which kicks off August 1 in Missouri. James says, "We've already been rehearsing for that, and putting a new set together, and doing some new set design. And that's going to be really cool."
Copyright 2013 ABC News Radio