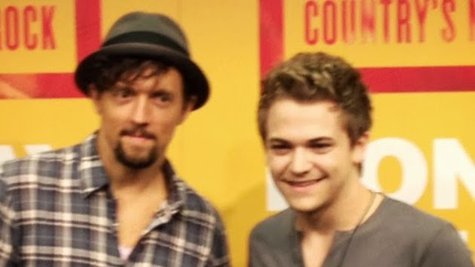 While you're waiting for Jason Mraz to release some new music, you can check him out this week in an unexpected place: a new album by country star Hunter Hayes , best known for his hit "Wanted."
Jason and Hunter first met at the Grammy Awards earlier this year, where Hunter was nominated for three trophies, including Best New Artist. Jason says he agreed to join Hunter on his new album, which is called Hunter Hayes (Encore), because Hunter's such a talented musician.
"What I find in this genre is an intense musicality, especially from the songwriters who can dig into their instruments and dig into melody and dig into story and dig into spirit. I dig on that," explains Jason.
Jason, who's performed in the past with country group Zac Brown Band , says another reason why he enjoys collaborating with country stars is because he likes that genre's feeling of community: he feels that's missing in the pop music world.
"It's really inspiring," he says. "Y'know, a lot of us in the pop scene, we live inside of our own bubbles, and we don't get to interact with each other too much. It seems like on the West Coast, it's just too far away from this community out here [in Nashville].. So, it's a real honor...to be considered [and], to be tapped to lend my voice to the work that they're doing."
Jason and Hunter team up for a track called "Everybody's Got Somebody but Me" on Hunter's album, which is actually an expanded edition of his debut record. Jason will also be performing this September at Zac Brown Band's annual Southern Ground Music & Food Festival in Nashville.
Copyright 2013 ABC News Radio