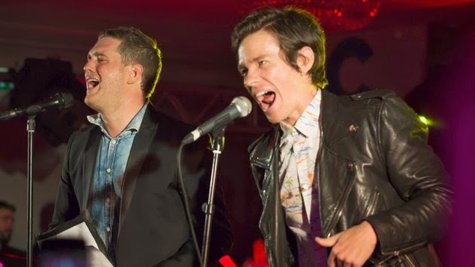 Michael Buble and fun. are two acts whose music is very different. But that didn't stop Michael and fun. singer Nate Ruess from teaming up onstage Tuesday night in France for a duet version of an Elvis Presley classic.
According USA Today, both Michael and fun. had been booked to entertain at a swanky party on the French Rivera for advertising and media executives. As guests scarfed down oysters, foie gras and smoked salmon, Michael and fun. played their hits individually, and then Michael joined Nate onstage for a version of Elvis' "Suspicious Minds." You can watch the video at USA Today' s website .
Michael also had some fun with the crowd: according to USA Today , when he first came on stage, he said he was going to sing a song that had brought him worldwide fame, and then started singing fun.'s #1 hit "We Are Young."
Copyright 2013 ABC News Radio