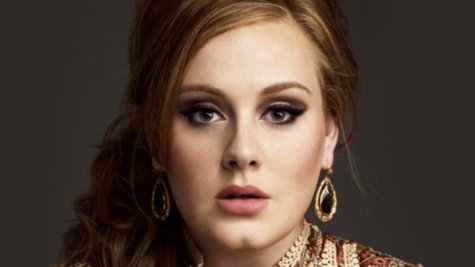 While it only took a couple of days before the press got hold of the birth certificate that revealed the name of Kim Kardashian and Kanye West 's baby girl, we still don't officially know the name of Adele 's son, despite the fact that he was born in October. In fact, nobody's actually ever seen the kid's face in public...until now.
E! Online trumpets that it has the "first photos" of Adele's little man, but all that it amounts to is a brief glimpse of his face peeking out from the side of his stroller. The pictures were snapped in the Battersea South area of London, according to E!.
E! refers to the kid as " Angelo ," because Adele was seen earlier this year wearing a necklace with that name on it, and because she also has a script "A" tattooed behind her ear. Of course, nobody knows for sure what she and boyfriend Simon Konecki have named their son.
As for Adele, she looked like her regular self, dressed down in leggings, flats, a navy dress and sunglasses, with her hair up in bun while pushing Angelo's -- we think -- stroller. She certainly hasn't let her recent honor from Queen Elizabeth II -- who made her an MBE, or Member of the British Empire, last week -- go to her head.
Copyright 2013 ABC News Radio