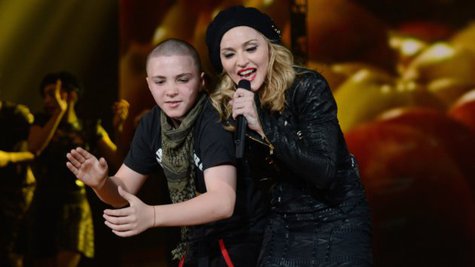 Madonna appeared on ABC's Good Morning America on Friday to promote her EPIX concert documentary, Madonna: The MDNA Tour , which airs on Saturday. During that 2012 tour, Madonna's eldest daughter, Lourdes , worked in the wardrobe department, while her eldest son, Rocco , danced onstage with her every night. And the Queen of Pop revealed that, just like any mother, the two of them are giving her some headaches now that they're teenagers.
Noting that she feels she's a "pretty strict" mother, Madonna, who has four kids overall, says, "My daughter just got an iPhone. She's 16. My son does not have a phone. Ever since my daughter got an iPhone, she stopped talking to me!"
One has to wonder at the definition of "strict," though, since Madonna also revealed that her daughter's job during the tour was "dressing and undressing all the male dancers." When ABC's Elizabeth Vargas reacted with disbelief to this, Madonna added, "Well, we had a lot of male dancers. It had its unglamorous moments; I mean, they're disgusting and they're sweaty and they're rude, but she took her job very seriously."
As for Rocco, he'll turn 13 in August, and Madonna says he's grown up a lot from the kid you'll see in Saturday's documentary joining her onstage for "Open Your Heart."
"He's a foot taller, he's getting facial hair, he's looking at girls' butts; it's terrible," she complained.
Dealing with a teenager, a pre-teen and her two younger children, David and Mercy : It's no wonder that Madonna is drowning her sorrows -- occasionally -- in junk food.
"I'm guilty of eating Magnum bars before I go to sleep at night," Madonna told Vargas. When she asked the star if she ever eats French fries, Madonna admitted, "French fries? Yes! I've had French fries for the last three nights!"
Madonna: The MDNA Tour airs Saturday night on EPIX at 8 p.m. ET.
Copyright 2013 ABC News Radio