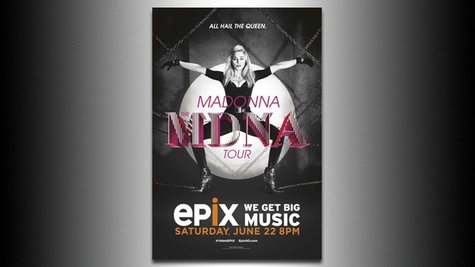 What does Madonna do the second she gets off stage? Apparently, she runs like hell.
In one of the few behind-the-scenes moments of this Saturday's big EPIX special Madonna: The MDNA Tour, we see the Queen of Pop exit the stage after a two-hour concert in Miami at a run -- and she continues running through the bowels of the stadium, followed by a team of burly security guards. Finally, she runs out of the stadium and into a waiting car, where her team surrounds her as she peels off various pieces of her costume. "Let's go home," she announces, as the car pulls away.
But that's just the end of the eye-popping concert film, which gives fans a front-row seat to last year's record-breaking tour. Far from being simply a concert, The MDNA tour is a full-blown spectacle, where every song fits into a narrative, complete with props, video screens, costume changes, backup dancers, musicians and more.
Alternately violent, sexy and uplifting, Madonna has described the MDNA tour as "the journey of a soul from darkness to light," adding, "It is part cinematic musical theater, part spectacle and sometimes intimate performance art...It must be watched with an open heart from beginning to end."
While Madonna performs plenty of songs from her MDNA album during the special, fans will also see her singing old favorites, some of which have been drastically reworked. For example, "Like a Virgin" is now a slowed-down, mournful, minor-key ballad. You'll also get to see Madonna perform her much-talked about mash-up of "Express Yourself" and Lady Gaga's "Born This Way" -- her way of commenting on the similarity between the two songs.
Other hits you'll see Madonna perform on the EPIX special include "Open Your Heart," "Papa Don't Preach," "Hung Up" and a full-blown version of "Like a Prayer" with a massive choir.
Madonna: The MDNA Tour debuts Saturday June 22 at 8 p.m. ET on EPIX. It's coming out on DVD and Blu-ray on August 27.
Copyright 2013 ABC News Radio