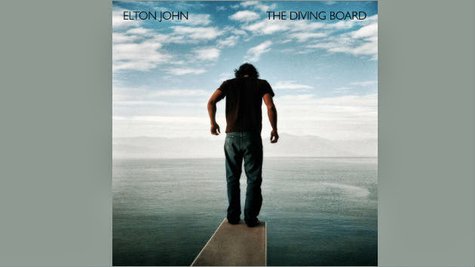 For the most part, Elton John has puts his own image on the covers of his albums, but for his forthcoming disc, the Rocket Man himself is nowhere to be seen.
Elton unveiled the cover artwork for The Diving Board , his 30th studio collection as a solo artist, on his Facebook page on Friday, and it features a striking image of a young-ish man, seen from behind, wearing jeans and a T-shirt. He's poised on the edge of a diving board, and he's peering over the edge at what appears to be, not a pool, but the ocean.
John's Facebook page also says the album is available for pre-order beginning Monday. There's still no release date, but September has been mentioned as the month when it'll be in stores.
Explaining the name of the record, Elton told reporters in April, "I felt that it was a very perfect title...because I am on the diving board. I feel like I'm starting again, making records and trying to see how this one does... I was so nervous, but that's good -- fear is a good thing. Without fear, you have nothing."
In addition to it being the album's title, "The Diving Board" also is the name of one of the songs, and John said of the tune, " I think [it's] probably my best vocal ever. It's...about a sad situation which one can pin on so many people in the last few years, because of the advent of reality television…or even things in the past when people have been driven by fame to crack up and just go to pieces."
The Diving Board features lyrics by Bernie Taupin , and it's co-produced by T Bone Burnett , who also worked on Elton's last album, The Union . The album, which has been previewed for reporters on both coasts, features music ranging from gospel, to ballads, to torch songs, to '50s-style rock 'n' roll, to country. Its rootsy sound is at times reminiscent of John's earlier work, especially the 1970 album Tumbleweed Connection .

Copyright 2013 ABC News Radio