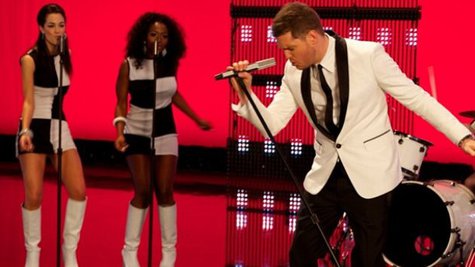 This weekend, Michael Buble is set to kick off a 10-night residency at London's O2 arena. Now, he's decided to turn one of his final rehearsals for those shows into a fundraising event that'll help sick kids in Northern England.
In partnership with a radio station in Sheffield, England, Michael will perform what's being described as a full-show rehearsal at Sheffield's Motorpoint Arena on Friday. Tickets will go on sale Wednesday for 25 pounds each -- that's about $39 -- and the proceeds will be split between the radio station's children's charity and the Sheffield Children's Hospital.
Michael's been rehearsing for the show at the Motorpoint Arena for the past week, running through sound checks and technical details, and now that he has gotten everything just right, he figured he would let the public hear it...and help a good cause at the same time.
Explaining why he decided to make the gesture, Michael told the radio station, "There's a lot of really kind, down to earth people in [this area]. Every time I've done shows here, it's great, because people are fun and don't take themselves too seriously -- hopefully I'm a lot like them."
Michael will perform at the O2 arena in London from Sunday, June 30 through July 14. Then, he'll do five shows at the O2 arena in Dublin, Ireland starting July 15. His tour hits the U.S. in early September.
Copyright 2013 ABC News Radio