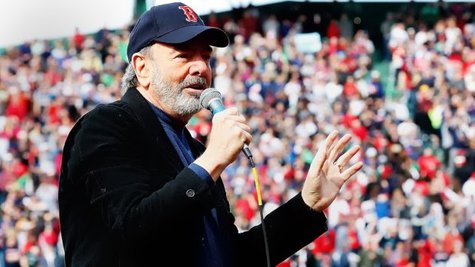 He said earlier this year he was going to do it and now he has: Neil Diamond has written a song inspired by the Boston Marathon bombings, and plans to donate all the proceeds to charity.
The Rock and Roll Hall of Famer will release the track, called "Freedom Song (They'll Never Take Us Down)," via iTunes and Amazon mp3 on July 2. 100% of the proceeds will go to One Fund Boston -- the charity set up to help the victims of the bombings -- and the Wounded Warrior Project.
In a statement, Diamond said, "I, like so many other Americans, felt helpless during the recent attacks in Boston and wanted so much to reach out and not only help those people affected in a direct way but to lift their spirits as well and let them know they were not alone; that the entire American community felt a close kinship with them."
Diamond, whose song "Sweet Caroline" is synonymous with baseball games at Boston's Fenway Park, added, "I was inspired enough to devote myself to the creation of a new song which expressed my love for this country and its two greatest assets: the spirit of its people and the freedoms it has afforded us all by law."
In other Neil Diamond news, he'll perform as a special guest on this year's edition of A Capitol Fourth, the annual PBS special which airs July 4 at 8 p.m. ET. Earlier that day, he'll debut "Freedom Song" live during the Nationals/Brewers game at Nationals Park in Washington, D.C., during the Nationals' traditional In-Game Military Salute.
Copyright 2013 ABC News Radio