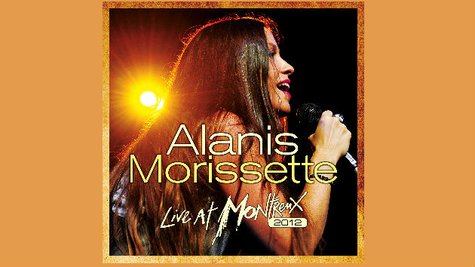 It's been 10 years since Alanis Morissette released a live project, but on April 23 the wait for a new one will be over with the release of Alanis Morissette: Live at Montreux 2012 . Available in CD, DVD and Blu-ray, the package captures Alanis' July 2 performance last year at Switzerland's legendary Montreux Jazz Festival. Fans who can't wait until April can pre-order Live at Montreux on March 29.
Filmed in HD during Alanis' Guardian Angel tour, Live at Montreux 2012 includes classic hits as well as songs from her 2012 album Havoc and Bright Lights . The DVD and Blu-ray each feature 20 songs, including "Ironic," "You Oughta Know" and her most recent single "Guardian"; the CD has 15 tracks.
Putting together a set list for a live show is always a challenge for an artist with a long career like Alanis, but she tells ABC News Radio that she's not one of those singers who refuses to play her old songs that her fans love because she's more interested in her new stuff.
"I wanna hear the hits too!" she laughs. "I love playing the songs from the last, y'know, many years." She adds, "It becomes like a painting every night, like a mosaic. We just set up that set list really self-indulgently, and we wind up actually covering exactly what we need to cover."
Here's the track listing of Live at Montreux 2012 :
"I Remain"
"Woman Down"
"All I Really Want"
"You Learn"
"Guardian"
"Flinch"
"Forgiven"
"Hands Clean"
"I Remain"
"Citizen of the Planet
"Ironic"
"Havoc"
"Head over Feet"
"Versions of Violence"
"I Remain"
"You Oughta Know"
"Numb"
"Hand in My Pocket"
"Uninvited"
"Thank U"
Copyright 2013 ABC News Radio