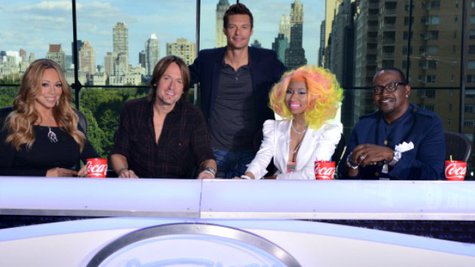 Thursday night on American Idol , 10 male contestants took the stage at The Mirage in Las Vegas. Five of them advanced, leaving a total of 20 hopefuls remaining in the competition.
Once again, Mariah Carey , Nicki Minaj , Keith Urban and Randy Jackson critiqued the contestants and decided on the eliminations.
The men who survived Thursday's show were Vincent Powell , Lazaro Arbos , Cortez Shaw, Burnell Taylor and Nick Boddington . The other guys still in the running: Curtis Finch, Jr. , Elijah Liu , Paul Jolley , Charlie Askew and Devin Velez.
They are joined in the top 20 by the following females: Tenna Torres , Kree Harrison , Angela Miller , Amber Holcomb , Adriana Latonio , Zoanette Johnson , Aubrey Cleland , Candice Glover , Breanna Steer and Janelle Arthur .
Here's what happened on Thursday's show:
Mathenee Treco truly got into the Vegas spirit by taking on an Elvis Presley song: "A Little Less Conversation." Keith applauded Mathenee for being an entertainer on stage, but he advised him to not underestimate the power of his voice. Nicki felt he was trying to please the judges, adding -- in a British accent -- that it sounded karaoke. Was she channeling her inner Simon Cowell with that comment? Randy and Mariah both didn't care for the song choice.
Gurpreet Singh Sarin chose James Morrison 's "Nothing Ever Hurt Like You," and it didn't go over well with any of the judges. Both Keith and Mariah lamented the fact that Gurpreet didn't play any instruments, such as his acoustic guitar. Nicki said he lacked the intimacy of his earlier performances. This is how she summed up his latest effort: "Honey child, hell no." Randy was just as blunt, telling Gurpreet, "Honestly, that was terrible."
Vincent Powell hit plenty of high notes on "Cause I Love You" by Lenny Williams . Nicki was surprised by Vincent's "sexy old-fashioned" showing, saying that she could envision women in their 40s and 50s throwing their panties at him. Randy declared Vincent to be the complete blend of singer and entertainer. Keith simply said, "I loved it," while Mariah announced, "All I can say is, finally."
Nick Boddington, a New York City bartender, delivered his rendition of another James Morrison song, "Say Something Now." Keith and Mariah both believed that there was a lack of connection between James and the judges and audience. Randy added that there were no special moments during the performance, a sentiment that Mariah slightly disagreed with. Nicki said Nick didn't do a bad job, but it wasn't his best outing.
Josh Holiday sat down at the piano for a song he wrote after Hollywood week. Halfway through the performance, he got up and walked away from his keys, which ended up working against him. Nicki and Mariah both told him he should've stayed at the piano. When Nicki made that comment, the crowd began to boo her, at which point she jokingly threatened to confront whoever disagreed with her. Randy said he liked the song but wasn't "wow'd" by it. Keith wished Josh would have cut loose more and shown more passion.
David Oliver Willis had his acoustic guitar with him for "Fever," made famous by Peggy Lee and Elvis Presley, among others. Keith and Randy said David had that "moment" that Nick lacked earlier, but it could've been greater had David selected a different song. Mariah said she'd heard better vocals from him, but the crowd loved it. Nicki was David's harshest critic, saying he played the guitar as if it was a new Christmas gift.
Bryant Tadeo , who's from Hawaii, sang Billy Joel 's "New York State of Mind." Keith noted that Bryant brought the audience members to their feet. Nicki complained that she loved the last note of the song, but not much else. Conversely, Randy said he loved the beginning but was waiting for the performance to go somewhere that it never did. Mariah noted that Bryant got lost in the song a few times.
Burnell Taylor won over the panel with his take on John Legend 's "This Time." Keith said Burnell was "strikingly original" and here to stay. Randy agreed that Burnell is a unique talent. Nicki told him that she's seen a positive change in him since he lost weight. Mariah said she's been rooting for him.
Lazaro Arbos, who suffers from a stuttering problem, made a daring choice: "Tonight I Wanna Cry," by Keith Urban. Keith said he was flattered, but didn't think Lazaro ever got comfortable with the song. Nicki complimented him for staying true to himself by performing a ballad. Randy proclaimed Lazaro to be a great singer. Mariah sensed that he was on the verge of tears while singing, and she was touched by that.
Cortez Shaw put a soulful spin on David Guetta 's "Titanium." Keith said it was bold and brave to turn the song into a ballad, but it hit the mark in certain spots. Nicki said she liked Cortez a lot. Randy was impressed by the high notes Cortez hit towards the end of the performance. Mariah said she enjoyed watching him.
Fox will air three nights of Idol next week and give you the chance to cast your vote for your favorite contestant. On Tuesday, the women will perform; on Wednesday, it will be the guys' turn; and on Thursday, the top 10 will be announced.
Copyright 2013 ABC News Radio