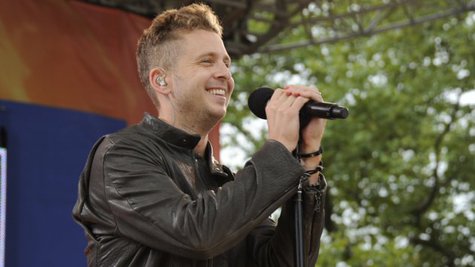 The good news is that OneRepublic 's Ryan Tedder is joining The Voice as a mentor. The bad news is that he's doing it on the Australian version of the show, so it won't be easy for North American fans check it out.
The Australian paper The Daily Telegraph reports that Ryan will be a mentor for the team led by Delta Goodrem , one of Australia's most popular singers. The pairing came about because Ryan's working with Delta on some new material. The other coaches on the Down Under version of the show are Seal , Ricky Martin and Joel Madden of Good Charlotte . Keith Urban was previously a coach on the show, until he switched to American Idol.
Meanwhile, Ryan and OneRepublic are gearing up for the release of their new album Native, which hits stores March 26. Appearing on Live with Kelly & Michael Tuesday, Ryan explained the title of the album.
"Every single time we put out an album we end up playing somewhere between like 40 and 50 countries," Ryan said. "So we wanted to do something that felt, like, indigenous or native to everybody."
Copyright 2013 ABC News Radio