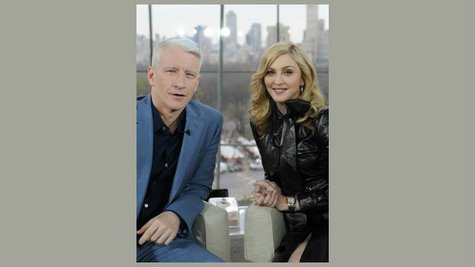 Madonna, a longtime supporter of gay rights, will be on hand March 16 at the 24th annual GLAAD Media Awards to present a special honor to journalist and talk show host Anderson Cooper .
GLAAD has selected Cooper to receive the Vito Russo Award, which is given to an "openly lesbian, gay, bisexual or transgender media professionals who have made a significant difference in promoting equality." Last year, Cooper, who'd previously declined to discuss his sexual orientation, said in an email which he allowed to be published, "The fact is, I'm gay, always have been, always will be, and I couldn't be any more happy, comfortable with myself, and proud."
The Vito Russo Award has previously been presented to Elton John , Ricky Martin and Rosie O'Donnell, among others.
According to GLAAD, Madonna and Cooper are "longtime friends." In a statement, GLAAD President Herndon Graddick said, "From speaking out against bullying to raising support for marriage equality, Madonna has always been one of our community's strongest allies. We are honored to have her stand with GLAAD and Anderson Cooper."
Copyright 2013 ABC News Radio